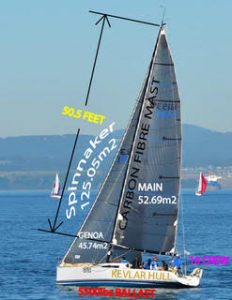 It's been said that the Jackrabbit is the fiercest of all the animal kingdom. We're not sure if this is true, but the crew of Jackrabbit has been known to do some fierce cocktail mixing, fierce dock dancing and occasionally, some fierce sailing.
When Colin Nichols realized that he had won nearly every major local sailing event at least 3 times over on his previous boat, the mighty XS, he decided it was time to upgrade to a boat capable of longer distance events. The new boat was Jackrabbit, a CM1200, and the goal was to compete in the 2017 VanIsle360.
Colin and crew have spent two years learning the boat and building a program. They look forward to battling with the fleet all the way around the island.